Untethered Authors Share What They Learned While Writing for this Anthology
Hello, and welcome to today's stop on the blog tour for Untethered: A Magic iPhone Anthology!
All authors do research for their stories. In honor of the book release for Untethered: A Magic iPhone Anthology, five authors divulge what they looked up, discovered, or simply ran across in the process of creating tales of magic and technology.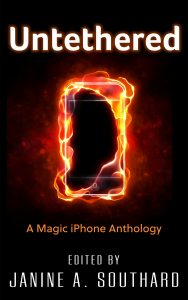 Rhiannon Held: This story made me do a little more mapping of additional "things being an archaeologist makes me take for granted." I find them all over the place when I hand my writing over to my critique group. Copper was used by some native groups in North America when other metals usually weren't, because it can be cold-hammered from natural deposits. Doesn't everyone know that??? When I got the note about that back, I slapped my forehead, because of course not everyone does, but I wasn't thinking about it in the flow of the writing.
Dale Cameron Lowry: I've had friends who've fostered motherless newborn kittens, so I knew a little about how time-consuming their care can be, but I wasn't up on all the details. Fortunately, the internet has a lot of great information, a lot of which you can find just by asking your phone. One great resource my own phone pointed me to was "What to Do (and NOT Do) If You Find a Newborn Kitten" from The Mayor's Alliance for New York City's Animals.
 Stevehen Warren: Sometimes you have to listen to your gut feeling and finish the story. I originally wrote two drafts with the second having a bit more serious tone, but submitted the first work instead. I like the characters more in the first draft.
Kris Millering: A few things:
The docents at the Issaquah fish hatchery are very nice and will happily tell you all about it if you ask.
You'll get funny looks if you stand and stare at stoplights for too long. (Oops.)
Sometimes you just have to ask yourself, "So what is this mobile rock's motivation?"
Raven Oak: I learned that you should never tick off the AI. 😉
Want to see what these authors did with the concept of a magic iPhone? Pick up your copy of Untethered: a Magic iPhone Anthology in ebook or trade paperback today. Find it at Amazon.com, Nook, or wherever you prefer to grab your books.
Extra Interest: Jonathon Burgess shares "I've got an iPhone 4s! I'm so very behind the times. But I was constantly referring to it while I was writing."
See the other stops on this blog tour: